Lamp House Music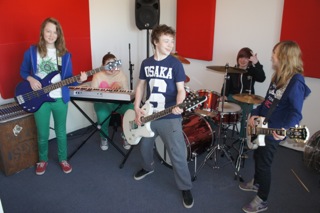 Lamp House Music opened in April 2012. Based in an original Victorian railway building – 'The Lamp House' is set in Station Yard, Hospital Road, Haddington.
Lamp House Music offers rehearsal rooms for musicians and bands. These rooms have been soundproofed and acoustically engineered and are light, clean and modern practice environments. Rooms are open 7 days a week and are available to hire by the hour, they come fully equipped with new, top spec equipment including Mapex Drumkits / Vox, Blackstar, Marshall and Crate guitar amps / Gallien & Kruger Bass Amps / and Peavey vocal PA and desks.
Lamp House Music lessons are fun, friendly and affordable, available in a variety of instruments for both children and adults. Fully experienced and qualified tutors are available for class-style lessons and one-to-one tuition, which include guitar, drums, ukulele, vocals and keyboards. A new term of classes, 'Spring Term', starts wb Monday 8th April 2013.
Lamp House Music, 'The Lamp House', Station Yard, Hospital Road, Haddington, EH41 3PP www.lamphousemusic.co.uk www.facebook.com/lamphousemusic
For further information/enquiries, please do not hesitate to contact Roz Maguire - Lamp House Music, contact details below.
Photograph of most recent Music School shown - the 'S2 Music School' (pupils from high schools across East Lothian) at Lamp House Music, February 2013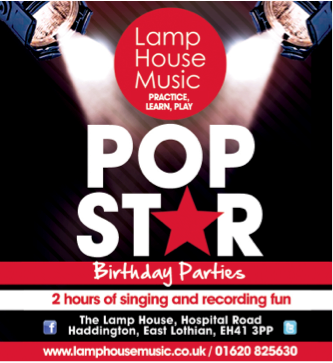 01620 825630
Lamp House Music
The Lamp House
Station Yard
Hospital Road
Haddington
East Lothian
EH41 4DU
---