Famous People Born in or Associated with Haddington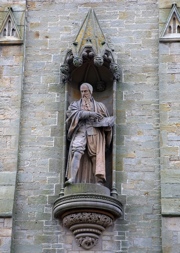 Statue of John Knox
Photo © Linda Sneddon
John Knox (c. 1514-1572) born Haddington (this is disputed, some say Morham). The Protestant Reformer educated at Haddington grammar School. Statue of him on Gothic Building now Knox Court.
John Major was educated in Haddington and was regarded by some of his contemporary scholars as the most outstanding intellect in Europe at the times. He also taught John Knox.
Samuel Smiles (1812-1904) born Haddington. Doctor, Biographer, Social Reformer, Railway enthusiast. Author of 'Self-help' and other books. Plaque on wall, 62 High Street, the house where he lived.
Jane Welsh Carlyle (1801-1866) Wife of literary genius Thomas Carlyle.
Rev John Brown (1722-1787) Author of his famous 'Self Interpreting Bible.
Provost Samuel Brown (1779-1839) Son of Rev John Brown. Founded Haddington School of Art and started the first of the 'itinerating' libraries of East Lothian.
John Martine (1811-1891) Set up his own brewery in Sidegate. He wrote newspaper articles and 'Reminiscences of the Royal Burgh of Haddington' much sought after by local social historians.
Sir William Gillies (1898-1973) Famous artist and teacher.
Robert Ferguson of Raith (1767-1840) MP for East Lothian 1835-7, known chiefly for his Monument in West End park and for his marriage to a well known East Lothian heiress.
Christopher Galloway (d.o.b unknown) Clock maker, architect and engineer. The most outstanding of his many achievements is the creation of the Saviour's Tower, the most prominent and easily recognised feature in Moscow's Red Square.
Dr George Harley (1829-1896) educated in Haddington, Professor of Medical Jurisprudence in London, gave his name to Harley Street, London.
Sir Alistair Grant (1937-2001) educated in Haddington, businessman, public servant and philanthropist.
Sir Sean Connery (1930- ) actor, worked as a joiner in Haddington as a young man.
References: David Dick's book 'A Millennium of Fame in East Lothian'
The information for this page was taken from the Haddington History Leaflet produced by the Royal Burgh of Haddington & District Community Council