What's on in Haddington
Haddington Tourist Office
THIS PAGE IS UNDER RECONSTRUCTION APPOLOGIES FOR ANY OUT OF DATE INFO 14 May 2014 The new season will start on 1st May 2014 in the John Gray centre. The opening hours are from 10.00 am until 4.00 pm Wednesday until Friday. At this moment in time there will be no Saturday openings. We are still looking for volunteers and if you would like to help out you can contact me, Jan Wilson, on 01620-82-4816 or email me at jwilson4155-at-btinternet.com (please replace –at- with @. This is present for spam prevention)
The Visitor Centre was instigated and organised by the Royal Burgh of Haddington & District Community Council.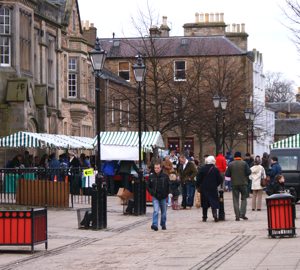 The Farmer's Market is held on the last Saturday of the month and is situated on the forecourt outside the John Muir House. The Market operates from 9.00 am until 1.00 pm.
What's on in the Library
May Events:
Exhibition
Finds from the excavation of Spitfire AR403
Star Room
Saturday 4th and Sunday 5th May
Free
Drop in
Tyne and Esk Writers
Tuesday 7th and 21st May
7pm
Library
Drop in
Tynes and Esk Poetry Group
Tuesday 7th May
2pm -4pm
Star Room
Free
Drop in
Lunchtime Book Group
Tuesday 7th May
12.15pm – 1pm
Star Room
Drop in
Free
Amnesty International Meeting
Tuesday 14th May
7pm
Library
Drop in
New members always welcome
Free
Bookbug Session
Birth -4yrs
Wednesdays 10.30 – 10.50 and 11.15 – 11.35am
Star Room
Free
Drop in
Chatterbooks Book Group
Thursday 2nd May 16thand 30th May
8 -12 years
Library
Free
Drop in
Storytimes
Tuesday 10.30am and Thursday 2.30pm
3-5yrs
Library
Drop in
Free
Disabled-Go
Thursday 23rd May
3-5pm
Information on Disability Services
Library
Drop in
Free
Easy Wheels Car Club
Exhibition
Friday 10th May
Drop in
Museums at Night
Bedtime Stories
Saturday 18th May
Library
7-9pm
Free
Drop in
Adult Learners Week 18th – 24th May
HELO workshop (Heritage East Lothian Online)
Friday 24th May
1.30 – 3.30pm and 3.30pm – 5pm
Library
Free
Booking Essential
Book Group
Tuesday May 21st
7pm
Library
Drop in
Free
Bookbug Week Scotland
Friday May 24th
Extra Bookbug Session with Lennox the Library Lion
Star Room
2.30pm – 3pm
Drop in
Free
Origami Workshop
Haddington Festival Event
Saturday 25th May
Star Room
10 – 4pm Five 45 minute sessions
£2.50 per person. Under 8's Free and must be accompanied by an adult.
Knox Academy Jazz Band (Haddington Festival Event)
Summer Jazz
Saturday 1st June
11- 12pm
Library
Drop in
Free